MBX-400 (filociclovir)
CMV-related infections in transplant recipients

Potent/novel nucleoside analog dual DNA polymerase/kinase inhibitor
Phase 2 ready
CMV, a member of the herpesvirus family, is benignly present in the majority of adults, where the immune system is able to prevent it from causing disease. However, CMV infection continues to be a major cause of morbidity and mortality in immunosuppressed patients, especially recipients of solid organ or bone marrow transplants. There are 126,670 solid organ transplant operations performed every year worldwide (2015 Global Observatory on Donation & Transplantation), with over 33,000 (Organ Procurement and Transplantation Network National Data, 2017) of these in the United States. The global market for anti-CMV therapeutics is expected to reach $1.2 billion by 2023.
Our goal is to develop a safer and more effective therapy to protect vulnerable
patients from this life-threatening infection.
MBX-400 (filociclovir):
Unique dual mechanism-of-action (DNA polymerase and UL97 kinase)
> 5x more potent than the current gold standard therapy (Valcyte®)
Active against resistant isolates
No genotoxicity
MBX-400 has completed Phase 1 studies
MDR Programs
Our goal: the identification and development of innovative treatments for priority
multi-drug resistant bacterial pathogens identified by the CDC and WHO
"Antimicrobial resistance poses a catastrophic threat. If we don't act now, any one of us
could go into hospital in 20 years for minor surgery and die because of an ordinary
infection that can't be treated by antibiotics. And routine operations like hip
replacements or organ transplants could be deadly because of the risk of infection… We
need to encourage more innovation in the development of antibiotics – over the
past two decades there has been a discovery void around antibiotics, meaning diseases
have evolved faster than the drugs to treat them."

— Dame Sally Davies
UK Chief Medical Officer
Learn more about Tackling multi-drug resistant bacteria.
(Reproduced with kind permission from Drug Discovery World Summer 2017 Vol. 18 No.3 Pages 9-14.)
Discovery of novel antibiotics* is not keeping pace with the
emergence of new superbugs (CARB-X Annual Report 2016-2017)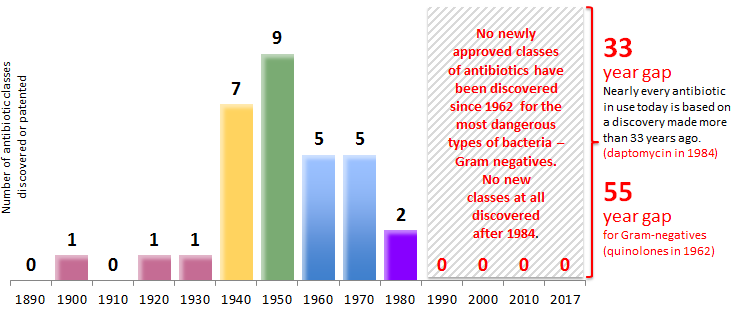 *This chart excludes bedaquiline, which is the first drug in a new class to treat tuberculosis.
Source: Pew Charitable Trusts; Deak D, Powers JH, Outterson K, Kesselheim AS. Progress in
the Fight Against Multidrug Resistant Bacteria?: A Review of FDA Approved Antibiotics 2010-2015.
ANNALS OF INTERNAL MED. 2016 MAY 31. DOI: 10.7326/M16-0291.

Microbiotix MDR Programs
Two series of spectinomycin analogs – spectinamides and aminospectinomycins
Type III Secretion System (T3SS)
Trans-translation
Efflux pump inhibitors